THE EXECUTIVE ORGAN OF GOVERNMENT
CONTENT
Definition of the Executive Organ of Government
Composition of the Executive
Types of Executive
Functions of the Executive
Control of the Executive
Honesty and Integrity in the Executive Organ of Government
Definition of the Executive Organ of Government
The executive is the organ of government responsible for the implementation, execution or enforcement of laws and policies made by the legislative arm of the government. The executive sees to it that laws made in a country are obeyed.
Composition of the Executive
1. Federal Level: At the federal level, we have the following: president or prime minister, secretary to the government of the federation, ministers, permanent secretaries, directors, etc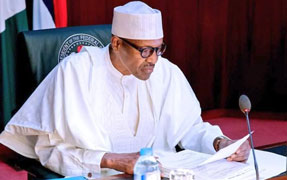 President Muhammadu Buhari – Executive President of Nigeria
2. State Level: At the state level we have, governor, deputy governor, head of service, secretary to the governor of the state, commissioners, permanent secretaries, directors etc.
3. Local Level: At the local level, we have, the chairman, vice chairman, secretary to the local government directors, head of department etc.
You are viewing an excerpt of this lesson. Subscribing to the subject will give you access to the following:
NEW: Download the entire term's content in MS Word document format (1-year plan only)
The complete lesson note and evaluation questions for this topic
The complete lessons for the subject and class (First Term, Second Term & Third Term)
Media-rich, interactive and gamified content
End-of-lesson objective questions with detailed explanations to force mastery of content
Simulated termly preparatory examination questions
Discussion boards on all lessons and subjects
Guaranteed learning