TYPES OF GRAZING
CONTENT
Types of Grazing
Farm Animal Improvement
Types of Grazing
1. Rotational Grazing
This is a system whereby the pasture land is divided into small plots called paddock
2. Continuous Grazing
This is the system whereby livestock are allowed to graze a pasture land throughout the season without restriction.
3. Zero Grazing
Zero grazing or Stall feeding means cutting of fresh forage and feeding either in the fresh or processed form to the animal in the house or in a pen.
4. Strip Grazing
Strip grazing is a grazing management system that involves giving livestock a fresh allocation of pasture every couple of hours or each day. It is usually organised within a paddock grazing system and the animals are controlled by the use of an electric fence. It can be used to efficiently graze crop residue.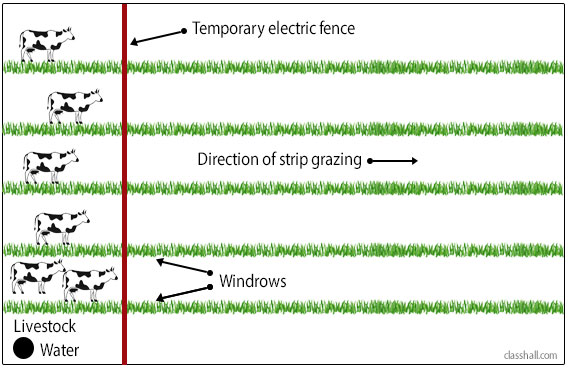 5. Controlled Grazing
Controlled grazing is the management of forage with grazing animals. It limits access to grazing by subdividing pastures with permanent and temporary fences.
You are viewing an excerpt of this lesson. Subscribing to the subject will give you access to the following:
The complete lesson note and evaluation questions for this topic
The complete lessons for the subject and class (First Term, Second Term & Third Term)
Media-rich, interactive and gamified content
End-of-lesson objective questions with detailed explanations to force mastery of content
Simulated termly preparatory exams
Discussion boards on all lessons and subjects
Guaranteed learning
Win great prizes for topping the Hall of Fame