POLYGONS
CONTENT
Regular and Irregular Polygons
Examples of Polygons
Construction of Hexagon Using a Pair of Compasses
Construction of Pentagon Using a Pair of Compasses
Construction of Octagon Using a Pair of Compasses
Regular and Irregular Polygons
A polygon is a plane figure bounded by three or more straight line segments e.g. quadrilateral, hexagon, heptagon, octagon, and pentagon. A polygon can either be regular or irregular.
Regular Polygons
A regular polygon is one that has all sides equal
Irregular Polygons
Irregular polygon is one that has unequal sides
Examples of Polygons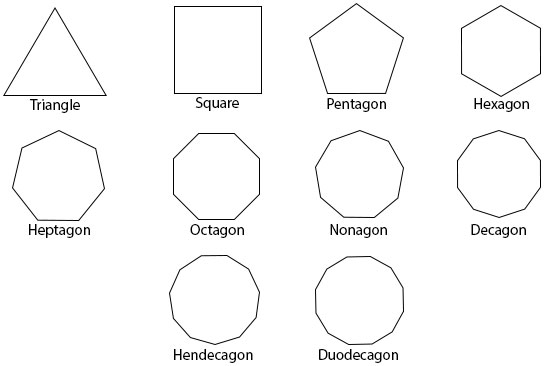 Regular Polygons
Construction of Hexagon Using a Pair of Compasses
A hexagon is a figure with six sides.
Procedure:
Draw a circle with radius equal to the length of the side given, and draw the horizontal diameter
With A as center, and the same radius (30mm), cut the circle above to give AC, and below to give AD.
You are viewing an excerpt of this lesson. Subscribing to the subject will give you access to the following:
NEW: Download the entire term's content in MS Word document format (1-year plan only)
The complete lesson note and evaluation questions for this topic
The complete lessons for the subject and class (First Term, Second Term & Third Term)
Media-rich, interactive and gamified content
End-of-lesson objective questions with detailed explanations to force mastery of content
Simulated termly preparatory examination questions
Discussion boards on all lessons and subjects
Guaranteed learning