LATITUDES AND LONGITUDES
CONTENT
Meaning and Uses of Latitude
Latitude and Distance
Meaning and Uses of Longitude
The Great Circle
Differences and Similarities between Lines of Latitude and Longitude
Time and Time Zones
Standard Time and World Time Zones
International Dateline and Grid References
Lines of Latitude
Meaning of Latitude
Latitude is an imaginary line drawn on the globe running from west to east. It is the angular distance of a point on the earth's surface, measured in degrees from the centre of the earth. The earth is divided into equal halves – the northern and southern hemisphere by latitude (O0) called the equator. Other lines of latitude are parallel to the equator and to each other, hence, the latitude are also called parallels of latitude.
Lines of Latitude run from west to east
The major lines of latitude are:
The Equator (0°)
The Tropic of Cancer 23 ½°N
The Tropic of Capricorn 23 ½°S
The Arctic Circle 66 ½°N
The Antarctic Circle 66 ½°S
These are diagrammatically shown below: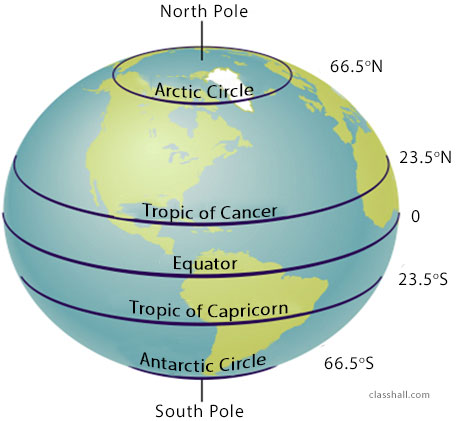 Equator
Equator is a line of latitude that divides the earth into two halves- northern hemisphere and southern hemisphere.
You are viewing an excerpt of this lesson. Subscribing to the subject will give you access to the following:
The complete lesson note and evaluation questions for this topic
The complete lessons for the subject and class (First Term, Second Term & Third Term)
Media-rich, interactive and gamified content
End-of-lesson objective questions with detailed explanations to force mastery of content
Simulated termly preparatory exams
Discussion boards on all lessons and subjects
Guaranteed learning
Win great prizes for topping the Hall of Fame